Unnamed Structures 1: Axioms
2023-01-12 | tags : structure | axiomatics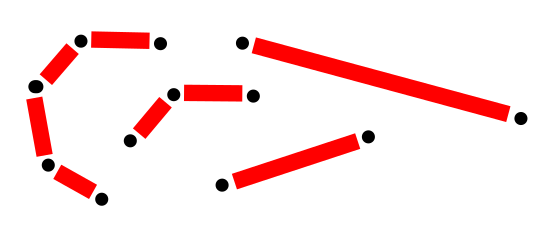 There exist a system made of units (.) and bonds (-). Units do not exist in isolation, they can only exist in a bond with one or more units.
Although a graphical representation of these structures can be given, the structures themselves are dimensionless.
I. Units cannot occupy the same space
II. Only one bond is possible between any two units
III. A unit can have an unlimited number of bonds
IV. Units exist only if linked by a bond
V. Bonds exist only if linked to two units
Minimal element
From [II] and [IV] we derive that the minimal element possible is composed of two units linked by a single bond.
Maximal element
The maximal element has an infinite number of units and an infinite number of bonds. what is known from [III] is that the infinite element is a unit - i.e. there cannot be a bond without a unit. Also we know that there are as twice as many bonds in any element.